On Tuesday, February 3, 1970, in the Hughes Auditorium on the campus of Asbury College in Wilmore, Kentucky, during the college's regular chapel service, which was scheduled to last only 50 minutes, a revival broke out that continued non-stop for 185 hours. Though the revival officially ended at about 3 a.m. on Wednesday morning, February 11, there would be intermittent outbreaks from time to time during chapel services for several weeks after that date.
On Tuesday morning, February 3, 1970, at 10 a.m., with one thousand students present, the chapel service started. The students who had made a high commitment to prayer were in attendance with great expectation that something was going to happen. They even mentioned to one another that they could sense the presence of God. Some of the students had even stated prophetically the night before that the revival was imminent.
Asbury's academic dean, Custer Reynolds, was scheduled to speak that morning. When he came to the microphone he indicated that he did not feel led to speak, so he briefly gave his testimony, then gave an invitation for students to share about their own personal experiences in their relationship with God.
Dr. Clarence Hunter then opened the altar for anyone who wanted to come and pray. Immediately hundreds of students rushed to the front, kneeling at the altar four to five deep. Spontaneous singing broke out. The presence of the Lord was so real that all other interests seemed unimportant.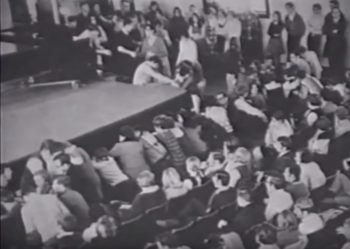 Throughout the auditorium, students knelt, not only at the altar, but at their seats, in the aisles, and anywhere they could, to confess their sins and get their hearts right with God.
Several hundred students gave their lives to Christ that day.
At the time the chapel service was to end, the bell sounded for students to go to their classes, but everyone ignored it. Academic Dean Custer Reynolds then approached the microphone and said that classes were cancelled.
Many students were lined up, intending to testify of how God was working in their lives. Many were overcome by their emotions, and with tear-filled confessions, they acknowledged sins they had committed against others that were present, and they publicly asked for forgiveness. Reconciliation began to take place between those who previously had been at odds.
Students continued to publicly pray, sing, and give testimonies, with some students even singing their testimony.